Leading the way in quality plastic manufacturing
Although there are many manufacturers of plastic automotive parts in Thailand, only a few have the capabilities to conduct R&D, design and manufacture molds and parts, paint and assemble completely on-site. Supavut Industry Co., Ltd. is a leading manufacturer in this regard.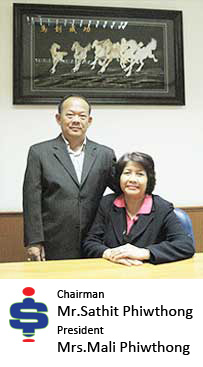 Supavut Industry Co., Ltd. is a well established Thai manufacturer of plastic automotive parts and has the complete range of capabilities. The working skills of the company gained acceptance within the industry, and it has become the first tier parts manufacturer for many leading auto manufacturers.
The company's working guidelines can be summarized by the slogan 'We Can, We Do, We Respond'.
We Can: we think that we can make it. With the spirit of "Nothing is impossible". Whatever we do, we always think that we can make it in spite of any difficulty. Solutions to any difficulties are found and refined later to avoid late implementation.
We Do: we start to do according to what we can.
We Respond: we respond to what we do by using Ho-Ren-So to achieve 360-degree Communication.
Report (Hokoku)
Report to your supervisor or project leader, to communicate the situation and status, or to seek information or advice as necessary.
Update (Renraku)
Update your team members on the situation of your project, so that everyone knows what you're doing. They will be able to take action accordingly, and work parallel with you.
Consult (Sodan)
Consult with stakeholders, such as clients and those impacted by the project, to see whether this is what they want, and how you can improve.
The distinction between our competitors and us is the courage to take on complex work. In addition, we place high importance on the quality of production.
We are committed to continued investment in modern machinery to ensure we can manufacture high quality parts, and have the ability to respond to customers with a fast service. In addition, we have the capability to adjust our work so we can respond to the demand of customers in time.

At present, Supavut Industry has the working area of over 30 Rai (48,000 Square meters), which consists of the complete production line as follows:
1. Research and Development (R&D)
2. Mold factory
3. Plastics Factory
Plastic Injection molding
Plastic blow molding
Assembly
4. Paint factory

Supavut Industry can manufacture various kinds of automotive parts including interior parts such as trim pillars, door trim, and console boxes; external parts such as front bumpers, spoilers and rear bumpers, and parts within the engine compartment, such as air conditioner ducts, washer tanks, HVAC, along with many other parts.

Supavut Industry strives to work at levels beyond expectation, and aims to encourage growth through customer satisfaction.
---
ISO Standards
Supavut Industry corresponds with the automotive industry standards including ISO 9001, ISO 14001 and ISO/TS 16949.
---